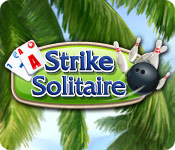 Strike Solitaire Game Overview
Bowling meets solitaire in this fun Card & Board game, Strike Solitaire! Go for the strike and complete each frame by matching the cards. Fill your multiplier bar to gain more money for the shop. Perfect your score and unlock new tracks and trophies. It's fun for the all ages so what are you waiting for? Lace up your shoes and get ready to gain the ultimate victory!
Exciting gameplay
Relaxing music
Get the perfect score!
Here at White Fuzzy Games Strike Solitaire is available for free download. You can play the downloaded copy of the game with full experiance for 60 minutes for free. After that you are to decide whether you liked Strike Solitaire and if you would like to purchase it.
Please write your impressions and thoughts about Strike Solitaire on the reviews page, and they will be published here on this page.