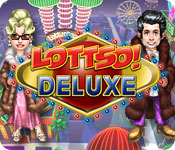 Lottso! Deluxe Game Overview
2nd Runner-Up Best Board Game of 2007Match, Scratch & Win! Race against the clock to match as many numbered balls to the numbered spaces on your Lottso! Cards. Cover all the spaces on a card and "Lottso!" - it flips over and activates the lottery scratcher game for bonus points. Use the leader board to track results and compete for the top spot!
Unlock over 3 dozen cards.
Great power-ups.
Use charms to earn bonus points.
Here at White Fuzzy Games Lottso! Deluxe is available for free download. You can play the downloaded copy of the game with full experiance for 60 minutes for free. After that you are to decide whether you liked Lottso! Deluxe and if you would like to purchase it.
Please write your impressions and thoughts about Lottso! Deluxe on the reviews page, and they will be published here on this page.