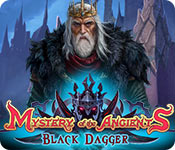 Mariaglorum Company brings you a chilling new case in Mystery of the Ancients: Black Dagger! When a police station is attacked, you're called in to help investigate. Things take an unexpected turn when the clues point to an ancient dagger and the spectre that wields it! With such a dangerous foe, and countless families in danger, can you uncover the fiend's origins and save the day? Find out in this spine-tingling hidden-object puzzle adventure game!
Check out our Blog Walkthrough
For a more in depth experience, check out the Collector's Edition
Mystery of the Ancients: Black Dagger is available for free download. The downloadable version contains sixty minutes of gameplay.
Week's Top Games