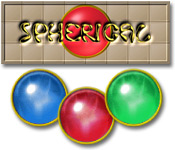 Spherical Game Overview
If you're ready for a fun and captivating game, then pull up a seat and try Spherical! This exciting twist on a classic game originated in Japan. Tease your brain and have your senses dazzled in this challenging title by interacting with beautifully designed glass orbs and challenging puzzles. Conquer all the various spherical challenges and prove once and for all that you have what it takes to be the master of the sphere!
Unique game mechanic.
Smooth graphics.
Brain teasingly fun.
Here at White Fuzzy Games Spherical is available for free download. You can play the downloaded copy of the game with full experiance for 60 minutes for free. After that you are to decide whether you liked Spherical and if you would like to purchase it.
Please write your impressions and thoughts about Spherical on the reviews page, and they will be published here on this page.