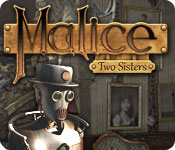 Malice: Two Sisters Game Overview
Help Victoria search for her missing sister, Emily, in Malice: Two Sisters. Emily's last known whereabouts was Urami Island, the boarding school that both sisters attended many years ago. The island is abandoned these days and people whisper that it is cursed as well. Explore deserted ruins, discover the shocking history of Urami Island and save Emily in this gripping Hidden Object Puzzle Adventure!
Haunting atmosphere
Challenging puzzles
Save Emily!
Here at White Fuzzy Games Malice: Two Sisters is available for free download. You can play the downloaded copy of the game with full experiance for 60 minutes for free. After that you are to decide whether you liked Malice: Two Sisters and if you would like to purchase it.
Please write your impressions and thoughts about Malice: Two Sisters on the reviews page, and they will be published here on this page.