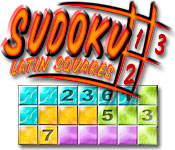 Sudoku Latin Squares Game Overview
This new twist on a classic game opens up a whole new world of Sudoku. Start small, with a 3x3 grid, to take things easy. Or go big, with the classic 9x9 grid, and become a sudoku master. With all kinds of helpful features, like notes and hints, you'll get drawn in to solving hundreds of challenging puzzles.
2 games in 1.
Easy, powerful interface.
Print puzzles.
Here at White Fuzzy Games Sudoku Latin Squares is available for free download. You can play the downloaded copy of the game with full experiance for 60 minutes for free. After that you are to decide whether you liked Sudoku Latin Squares and if you would like to purchase it.
Please write your impressions and thoughts about Sudoku Latin Squares on the reviews page, and they will be published here on this page.