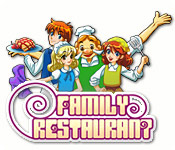 Family Restaurant Game Overview
Test your cooking skills in the kitchen of your father`s restaurant. The more tasteful and creative the recipes, the better the chance to get the ultimate goal of a 5 star rating. Deal with time pressure and stress by cooking multiple dishes at the same time. Boost sales by inventing creative recipes of your own.
Unlock recipes.
Create your own recipes!
Cute and vibrant graphics.
Here at White Fuzzy Games Family Restaurant is available for free download. You can play the downloaded copy of the game with full experiance for 60 minutes for free. After that you are to decide whether you liked Family Restaurant and if you would like to purchase it.
Please write your impressions and thoughts about Family Restaurant on the reviews page, and they will be published here on this page.