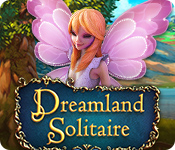 Dreamland Solitaire Game Overview
Escape to a dreamy world filled with wonder and danger while you delight in a magical new twist on the Solitaire you love! As a new adventurer, you must learn about all the dangers that face you while traversing enchanted forests, majestic bluffs, and more! Play the cleverly designed card layouts and as you remove cards you will slowly uncover hand-painted scenes of an enchanting fantasy realm. Play Dreamland Solitaire today to begin a journey of relaxation and fun!
Exciting point-and-click gameplay
Three modes for all skill levels
Learn-as-you-play tutorial
Here at White Fuzzy Games Dreamland Solitaire is available for free download. You can play the downloaded copy of the game with full experiance for 60 minutes for free. After that you are to decide whether you liked Dreamland Solitaire and if you would like to purchase it.
Please write your impressions and thoughts about Dreamland Solitaire on the reviews page, and they will be published here on this page.