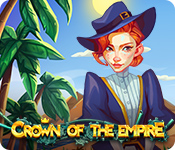 Crown Of The Empire Game Overview
The life of Elena, the first lady-in-waiting to Her Majesty, isn't so much about balls, corsets and fancy hats as she is about espionage, intrigue and life-threatening covert operations for the good of the Empire! One day, in the middle of a secret operation, she received an unexpected telegram from the Prime Minister about an urgent meeting that very night. She had no choice but to return home that instant and put her operation on hold. Join Elena and find out what's happened at the palace in this exciting time management adventure!
Alternate history full of wondrous creations
Intriguing plot full of mysticism and secrets
Vibrant graphics and fun animations
Here at White Fuzzy Games Crown Of The Empire is available for free download. You can play the downloaded copy of the game with full experiance for 60 minutes for free. After that you are to decide whether you liked Crown Of The Empire and if you would like to purchase it.
Please write your impressions and thoughts about Crown Of The Empire on the reviews page, and they will be published here on this page.