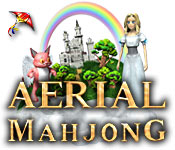 Aerial Mahjong Game Overview
Make your way through all of Aerial Mahjong's fascinating levels and solve all the riddles to find the mighty mage and gain from him a magnificent gift! Match tiles and solve puzzles in the enigmatic land of Aerial. Cute characters and troubling puzzles make this mahjong game fun and exciting. Become a master of mahjong to claim your prize.
Here at White Fuzzy Games Aerial Mahjong is available for free download. You can play the downloaded copy of the game with full experiance for 60 minutes for free. After that you are to decide whether you liked Aerial Mahjong and if you would like to purchase it.
Please write your impressions and thoughts about Aerial Mahjong on the reviews page, and they will be published here on this page.