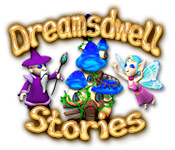 Dreamsdwell Stories Game Overview
Build a colourful fantasy world by gathering magic orbs and collecting gold and gems in Dreamsdwell. Invite new people to populate your growing village and they'll unlock new and exciting bonuses that will help you achieve ultimate victory. According to legend, once the magical land of Dreamsdwell is complete, a Dragon will come and fulfil the dreams of all who inhabit your land. This legend may only come true with your help!
Build and upgrade buildings
Discover unique dwellers
Whimsical fantasy setting
Here at White Fuzzy Games Dreamsdwell Stories is available for free download. You can play the downloaded copy of the game with full experiance for 60 minutes for free. After that you are to decide whether you liked Dreamsdwell Stories and if you would like to purchase it.
Please write your impressions and thoughts about Dreamsdwell Stories on the reviews page, and they will be published here on this page.