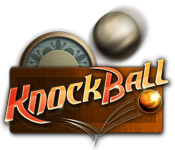 KnockBall Game Overview
Ready for a challenge? This polished puzzler will hit the spot! Play against yourself or the computer in this physics-based billiards hit! Battle against the computer's AI and knock the most balls off of the board to win, or challenge yourself to earn a 3-star rating for using the minimum number of hits on all 160 obstacle-packed levels!
Uses real pool physics!
Balance luck and skill!
160 levels packed with different obstacles!
Here at White Fuzzy Games KnockBall is available for free download. You can play the downloaded copy of the game with full experiance for 60 minutes for free. After that you are to decide whether you liked KnockBall and if you would like to purchase it.
Please write your impressions and thoughts about KnockBall on the reviews page, and they will be published here on this page.