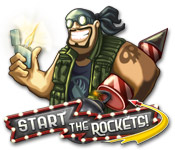 Start the Rockets Game Overview
Its time to light the fuse and fire your way through a new exciting puzzle game, Start the Rockets! In Start the Rockets, you have a huge stash of various fireworks that are at your disposal! Don't forget your protective goggles as you explode through each challenging puzzle! Launch chain reactions as you solve each pyrotechnic riddle and unlock new levels.
Colorful fireworks
Realistic physics
135 exciting levels
Here at White Fuzzy Games Start the Rockets is available for free download. You can play the downloaded copy of the game with full experiance for 60 minutes for free. After that you are to decide whether you liked Start the Rockets and if you would like to purchase it.
Please write your impressions and thoughts about Start the Rockets on the reviews page, and they will be published here on this page.