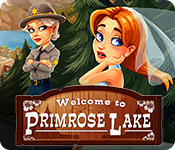 Welcome to Primrose Lake Game Overview
An idyllic town nestled in the Rocky Mountains, Primrose Lake is not as quaint as it seems. When Jenny Carlyle hitches a ride from a total stranger, she quickly realizes something is seriously wrong. No cell reception. No internet. Nothing to do but bide her time and try to stay out of trouble. It isn't easy to do. Experience a new Time Management mystery where everyone has a secret, and there's no place to hide from the past.
Unravel the twisted fates of two strangers
Interact with different characters in town
Explore 60 Time Management levels
Here at White Fuzzy Games Welcome to Primrose Lake is available for free download. You can play the downloaded copy of the game with full experiance for 60 minutes for free. After that you are to decide whether you liked Welcome to Primrose Lake and if you would like to purchase it.
Please write your impressions and thoughts about Welcome to Primrose Lake on the reviews page, and they will be published here on this page.