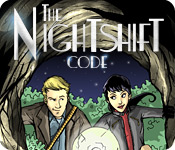 The Nightshift Code Game Overview
The Nightshift Code is a Hidden Object adventure game that takes players on mysterious and sometimes dangerous journeys from an ancient history museum in Chicago all the way to a secret location in the Greek Isles. You will search for hidden objects and piece together clues to unlock challenging puzzles, ultimately digging for a lost treasure.
Immersive story.
Hundreds of hidden objects.
Use special tools.
Here at White Fuzzy Games The Nightshift Code is available for free download. You can play the downloaded copy of the game with full experiance for 60 minutes for free. After that you are to decide whether you liked The Nightshift Code and if you would like to purchase it.
Please write your impressions and thoughts about The Nightshift Code on the reviews page, and they will be published here on this page.