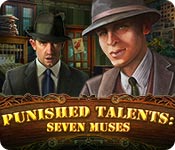 Punished Talents: Seven Muses Game Overview
Life imitates art with deadly results in Punished Talents: Seven Muses! Several of your close friends have been murdered in Boston recently, and the crimes are identical to ones described in books written by author Russell Pollack, your husband. Evidence found at the crime scenes only condemns Russell further, and soon he goes on the lam. It's up to you to figure out who the real killer is before even more people – including you – end up dead. Find clues and explore the gorgeous world of 1930s Boston as you set out to save your friends and prove Russell's innocence in this thrilling whodunit!
Get the Strategy Guide!
Check out our Blog Walkthrough
For a more in depth experience, check out the Collector's Edition
Here at White Fuzzy Games Punished Talents: Seven Muses is available for free download. You can play the downloaded copy of the game with full experiance for 60 minutes for free. After that you are to decide whether you liked Punished Talents: Seven Muses and if you would like to purchase it.
Please write your impressions and thoughts about Punished Talents: Seven Muses on the reviews page, and they will be published here on this page.