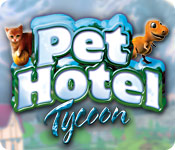 Pet Hotel Tycoon Game Overview
At the Pet Hotel, you're in charge! Build gift shops, restaurants, vet offices, play enclosures and more to accommodate pets and their owners. As you expand your hotel and earn more money, you can add rooms and amenities for pet owners. Adjust the prices for room fees, food and souvenirs to maximize profits and occupancy. Feed your animal guests, take them to the vet and teach them tricks to earn extra money! Add upgrades to keep occupancy high and guests happy. Make your hotel the best in the land!
Build & Open Your Hotel!
10 Player Avatars
Fun Upgrades & Mini-Games
Here at White Fuzzy Games Pet Hotel Tycoon is available for free download. You can play the downloaded copy of the game with full experiance for 60 minutes for free. After that you are to decide whether you liked Pet Hotel Tycoon and if you would like to purchase it.
Please write your impressions and thoughts about Pet Hotel Tycoon on the reviews page, and they will be published here on this page.