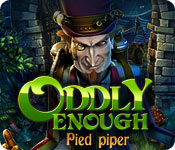 Oddly Enough: Pied Piper Game Overview
Enter the weird and wonderful realm of legend in Oddly Enough: Piped Piper, an enchanting Hidden Object adventure that puts a quirky twist on a classic tale. Interact with memorable characters, decipher mind-melting codes, repair bizarre machines, and cook up strange concoctions in a quest to rescue the children of Hamelin. Packed with compelling puzzles, masterful minigames, and stunning design work, Oddly Enough: Pied Piper has something for everyone!
Incredible gameplay
Wonderful locations
Save the children!
Here at White Fuzzy Games Oddly Enough: Pied Piper is available for free download. You can play the downloaded copy of the game with full experiance for 60 minutes for free. After that you are to decide whether you liked Oddly Enough: Pied Piper and if you would like to purchase it.
Please write your impressions and thoughts about Oddly Enough: Pied Piper on the reviews page, and they will be published here on this page.