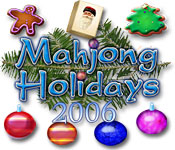 Mahjong Holidays 2006 Game Overview
It's time to ring in the holidays with Mahjong Holidays 2006. Break out the eggnog, throw a log on the fire, and settle in for some real mahjong fun! This festive version of a classic game will delight everyone. With three gameplay modes to choose from, your holidays can last even longer.
Create custom boards.
Holiday art and music.
34,000+ layouts.
Here at White Fuzzy Games Mahjong Holidays 2006 is available for free download. You can play the downloaded copy of the game with full experiance for 60 minutes for free. After that you are to decide whether you liked Mahjong Holidays 2006 and if you would like to purchase it.
Please write your impressions and thoughts about Mahjong Holidays 2006 on the reviews page, and they will be published here on this page.