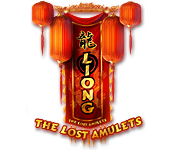 Liong: The Lost Amulets Game Overview
Long ago five magical amulets were treasured by Oriental wise men. These amulets held the five natural elements in balance. Restore harmony to nature by finding the lost amulets. Liong: The Lost Amulets is a combination of hidden object games and tile-matching puzzles and also has a variety of mini games. Along your journey you`ll visit hundreds of unique locations and collect power-up pearls. Reveal the magic spells and restore the sparkling gems of the magical amulets.
100+ levels of game play
Challenging Mini-Games
Immersive environments
Here at White Fuzzy Games Liong: The Lost Amulets is available for free download. You can play the downloaded copy of the game with full experiance for 60 minutes for free. After that you are to decide whether you liked Liong: The Lost Amulets and if you would like to purchase it.
Please write your impressions and thoughts about Liong: The Lost Amulets on the reviews page, and they will be published here on this page.