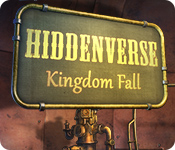 Hiddenverse: Kingdom Fall Game Overview
The final chapter in the adventures of the Copperset Kingdom is here! Your task is to help Tom and his allies find out who attempted to take the life of Princess Sarah and restore order in the kingdom, over which clouds are gathering. Are the heroes ready to see the true face of the kingdom and how will they choose which side to take?
Picturesque steampunk and fantasy locations
100+ levels including HO, puzzle and match3
More than 20 different game mechanics
Here at White Fuzzy Games Hiddenverse: Kingdom Fall is available for free download. You can play the downloaded copy of the game with full experiance for 60 minutes for free. After that you are to decide whether you liked Hiddenverse: Kingdom Fall and if you would like to purchase it.
Please write your impressions and thoughts about Hiddenverse: Kingdom Fall on the reviews page, and they will be published here on this page.