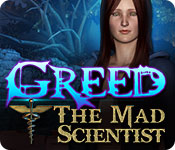 Greed: The Mad Scientist Game Overview
A world famous scientist Dr. Ralph Goodwin promises to unveil a miracle drug able to cure almost all types of diseases. But just one day before his press conference a mysterious explosion destroys his research laboratory. With the lab destroyed, the cure seems lost forever. You have to investigate the case with the help of a young girl named Sara. As Sara searches through the lab, she unravels the dark events of her own past. Among mad scientists and ruthless assassins will you ever be able to find the cure? Find out in Greed: The Mad Scientist!
Immersive sci-fi atmosphere
Elaborate storyline with many twists
Unique mini games
Here at White Fuzzy Games Greed: The Mad Scientist is available for free download. You can play the downloaded copy of the game with full experiance for 60 minutes for free. After that you are to decide whether you liked Greed: The Mad Scientist and if you would like to purchase it.
Please write your impressions and thoughts about Greed: The Mad Scientist on the reviews page, and they will be published here on this page.