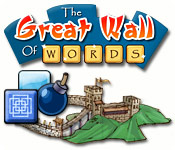 Great Wall of Words Game Overview
China has fallen under attack from Mongol armies! The Emperor of China himself has ordered you to travel the length of the Great Wall to make much needed repairs to keep the advancing armies at bay. You must now begin an epic journey along the wall, a race against time to save your homeland from destruction. At the end of your journey lies the Imperial Palace, which you must protect at all costs!
Epic word adventure.
Creative play modes.
Beautiful graphics.
Here at White Fuzzy Games Great Wall of Words is available for free download. You can play the downloaded copy of the game with full experiance for 60 minutes for free. After that you are to decide whether you liked Great Wall of Words and if you would like to purchase it.
Please write your impressions and thoughts about Great Wall of Words on the reviews page, and they will be published here on this page.
Great Wall of Words Latest Mini-Reviews