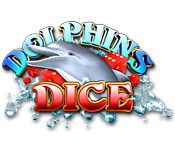 Dolphin Dice Slots Game Overview
Swim with the dolphins in this Slot game adventure! Experience three different game features and the Crabby Crab-Pot Jackpot! Enjoy classic Slot machine gameplay, with an all new twist. Dolphins act as wildcards, and help you earn tons of cash! Unlock different bonus rounds to collect even more money in Dolphin Dice Slots! Can you win the Crabby Crab-Pot Jackpot and become the richest person under the sea?
Fast-paced gameplay
Intense action
Swim with the dolphins!
Here at White Fuzzy Games Dolphin Dice Slots is available for free download. You can play the downloaded copy of the game with full experiance for 60 minutes for free. After that you are to decide whether you liked Dolphin Dice Slots and if you would like to purchase it.
Please write your impressions and thoughts about Dolphin Dice Slots on the reviews page, and they will be published here on this page.