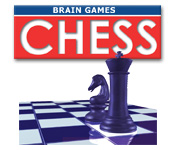 Brain Games: Chess Game Overview
Enjoy the classic game of Chess on your computer! Play one of the most complex games of history in the comfort of your own home. Engage the computer in an epic battle, or take on your friends and family. Work on techniques and strategies and improve your Chess abilities in Brain Games: Chess.
Classic gameplay
Multiple difficulty levels
Enjoy Chess!
Here at White Fuzzy Games Brain Games: Chess is available for free download. You can play the downloaded copy of the game with full experiance for 60 minutes for free. After that you are to decide whether you liked Brain Games: Chess and if you would like to purchase it.
Please write your impressions and thoughts about Brain Games: Chess on the reviews page, and they will be published here on this page.