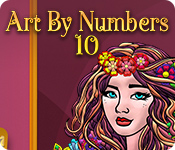 Art By Numbers 10 Game Overview
Art By Numbers is back with another colorful collection! This is more than just a painting game – explore incredible artwork and let your creative side shine as you complete these colorful paint-by-numbers puzzles. Just pick a paint, find the right number, and fill the image with bright colors to bring it to life. Complete incredible works of art with ease!
72 bright and colorful paintings
Use the pointed brush to color with brush strokes
Switch between coloring modes
Here at White Fuzzy Games Art By Numbers 10 is available for free download. You can play the downloaded copy of the game with full experiance for 60 minutes for free. After that you are to decide whether you liked Art By Numbers 10 and if you would like to purchase it.
Please write your impressions and thoughts about Art By Numbers 10 on the reviews page, and they will be published here on this page.