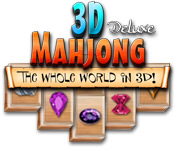 3D Mahjong Deluxe Game Overview
Take Mahjongg to the 3rd dimension in 3D Mahjongg Deluxe! Experience classic gameplay like never before! Carefully remove matching pairs of tiles as you clear away the entire board. Plan ahead or you'll be stuck with leftover pieces. Unlock incredible 3D images as you advance to more complicated levels. Take on multiple minigames and have a ton of fun in 3D Mahjongg Deluxe!
Unlock 3D images
Master the minigames
Take Mahjong to the 3rd dimension!
Here at White Fuzzy Games 3D Mahjong Deluxe is available for free download. You can play the downloaded copy of the game with full experiance for 60 minutes for free. After that you are to decide whether you liked 3D Mahjong Deluxe and if you would like to purchase it.
Please write your impressions and thoughts about 3D Mahjong Deluxe on the reviews page, and they will be published here on this page.