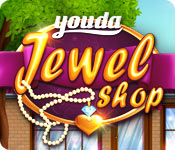 Youda Jewel Shop Game Overview
Get ready to shine as a true jewelry designer in Youda Jewel Shop! As impatient customers line up for your fashionable accessories, it is up to you to quickly produce and assemble all the glitter and glamour they desire in your mission to become "jewelry designer of the year" and turn your shop into a glittering success! Stay calm and use your multitasking skills to keep your treasured customers happy in this exciting Time Management game.
80 levels including special challenges
Craft a wide variety of accessories
Sharp, high-definition graphics
Here at White Fuzzy Games Youda Jewel Shop is available for free download. You can play the downloaded copy of the game with full experiance for 60 minutes for free. After that you are to decide whether you liked Youda Jewel Shop and if you would like to purchase it.
Please write your impressions and thoughts about Youda Jewel Shop on the reviews page, and they will be published here on this page.