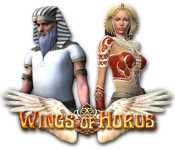 Wings of Horus Game Overview
Play as the Egyptian princess Tyana and save the world from the reawakened ancient God of chaos, Apep in Wings of Horus. Apep's minions are quickly regaining strength bringing destruction to the land. Isis, the Goddess of Mercy, has given you the Wings of Horus, granting you the powers of the Gods needed to destroy the altars of chaos, weakening Apep and bringing peace once again to Egypt.
60 levels
Battle the forces of chaos
Defeat Apep and bring peace
Here at White Fuzzy Games Wings of Horus is available for free download. You can play the downloaded copy of the game with full experiance for 60 minutes for free. After that you are to decide whether you liked Wings of Horus and if you would like to purchase it.
Please write your impressions and thoughts about Wings of Horus on the reviews page, and they will be published here on this page.