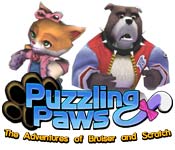 Puzzling Paws Game Overview
Puzzling Paws is an unfolding story about two friends, an innocent kitten named Scratch and her protective bulldog pal Bruiser. One minute, they are having a picnic and after a blinding flash of light, find themselves stranded in a strange world full of intrigue and surprises. Their only hope to find a path home is to unravel the mystery of this place, one life-sized puzzle at a time.
Perplexing puzzles
Incredible graphics
Help our heroes make it home!
Here at White Fuzzy Games Puzzling Paws is available for free download. You can play the downloaded copy of the game with full experiance for 60 minutes for free. After that you are to decide whether you liked Puzzling Paws and if you would like to purchase it.
Please write your impressions and thoughts about Puzzling Paws on the reviews page, and they will be published here on this page.