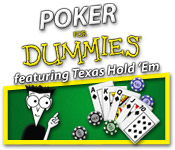 Poker for Dummies Game Overview
Learn when to hold `em and when to fold `em in this exciting, user-friendly poker suite! Learn the ropes of several popular poker variations and sharpen your new-found skills at the practice table. When you're ready take your poker face to a real game; ante, call, bluff, and bet your way to the bank in this thrilling, educational card game! Go all in with Poker for Dummies!
Learn, practice and play modes
Slick, high-stakes graphics
Unleash your inner card shark!
Here at White Fuzzy Games Poker for Dummies is available for free download. You can play the downloaded copy of the game with full experiance for 60 minutes for free. After that you are to decide whether you liked Poker for Dummies and if you would like to purchase it.
Please write your impressions and thoughts about Poker for Dummies on the reviews page, and they will be published here on this page.