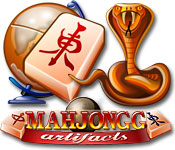 Mahjongg Artifacts Game Overview
Take your choice of epic adventures in this spin on an old favorite. You can follow a story through five exotic cultures, build endless towers, or just take a quick break from modern life. Keep an eye out for bonus pieces like the Great Tile to help along your way.
5 amazing tile sets.
6 creative audio tracks.
100 layouts.
Here at White Fuzzy Games Mahjongg Artifacts is available for free download. You can play the downloaded copy of the game with full experiance for 60 minutes for free. After that you are to decide whether you liked Mahjongg Artifacts and if you would like to purchase it.
Please write your impressions and thoughts about Mahjongg Artifacts on the reviews page, and they will be published here on this page.