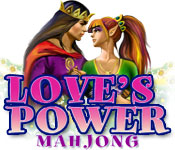 Love's Power Mahjong Game Overview
Put your Mahjong skills to the test and save Ariel's fiancé, Tarlan, from captivity by the evil wizard Cornwall! Stolen from the altar on their wedding day, poor Tarlan has been taken deep into the Country of Four Seasons. Meet a whole cast of crazy characters as you help Ariel go on an exciting journey and explore the world of Love's Power Mahjong! Can you track down Tarlan and defeat Cornwall before it's too late?
Multiple minigames
Different game modes
Save Ariel's fiancé!
Here at White Fuzzy Games Love's Power Mahjong is available for free download. You can play the downloaded copy of the game with full experiance for 60 minutes for free. After that you are to decide whether you liked Love's Power Mahjong and if you would like to purchase it.
Please write your impressions and thoughts about Love's Power Mahjong on the reviews page, and they will be published here on this page.