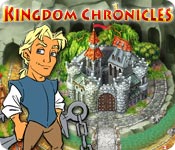 Kingdom Chronicles Game Overview
Journey to a land of royalty and adventure in Kingdom Chronicles! John Brave finds his homeland captured by a greedy villain and only he is courageous enough to fight and save the kingdom from total plunder. Build, trade, research and battle for your kingdom! Workers, clerks and warriors will help you on your quest to restore the towns and villages, solve mysteries, defeat the enemies and restore order. Rescue the princess, defeat the villain, and save your homeland in this fun and exciting strategy game!
Defeat the villain and save your homeland
Get the Strategy Guide!
Check out our Blog Walkthrough
Here at White Fuzzy Games Kingdom Chronicles is available for free download. You can play the downloaded copy of the game with full experiance for 60 minutes for free. After that you are to decide whether you liked Kingdom Chronicles and if you would like to purchase it.
Please write your impressions and thoughts about Kingdom Chronicles on the reviews page, and they will be published here on this page.