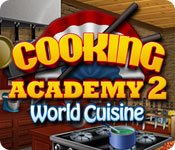 Cooking Academy 2: World Cuisine Game Overview
Welcome to the World Culinary Workshop! Cooking Academy 2 will put you in the kitchens of restaurants from all corners of the globe. From Chinese BBQ Pork Buns, to Mexican Tamales, to Japanese Sushi, make your way through 60 different recipes from eight different countries! Learn interesting trivia about food while mastering all new skills and mini-games including food processors, mixers, raiding the fridge and much more!
Unique Recipes
Exciting cooking games
Master international cuisine
Here at White Fuzzy Games Cooking Academy 2: World Cuisine is available for free download. You can play the downloaded copy of the game with full experiance for 60 minutes for free. After that you are to decide whether you liked Cooking Academy 2: World Cuisine and if you would like to purchase it.
Please write your impressions and thoughts about Cooking Academy 2: World Cuisine on the reviews page, and they will be published here on this page.