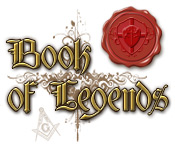 Book of Legends Game Overview
Join Zoe and Charleston Black as they unravel a powerful and ancient Arthurian legend in this gripping Hidden Object game! What began as a casual interest quickly spirals into a dangerous obsession when a young researcher is consumed by the search for a mythic book of limitless power. Travel the world uncovering clues to one of the most powerful and sought-after tomes in human history. Delve into Book of Legends today!
Captivating storyline
Challenging mini-games
Unleash legendary power!
Here at White Fuzzy Games Book of Legends is available for free download. You can play the downloaded copy of the game with full experiance for 60 minutes for free. After that you are to decide whether you liked Book of Legends and if you would like to purchase it.
Please write your impressions and thoughts about Book of Legends on the reviews page, and they will be published here on this page.