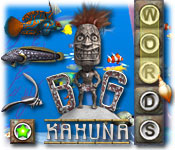 Big Kahuna Words Game Overview
This brilliant word game will have you diving between hammerhead sharks and other aquatic life while you use your words to break stone blocks in an explosive twist on puzzle gameplay. Use the built-in level editor to expand your explorations of the underwater realms to an almost infinite number. Two play modes, Action and Relaxed, both allow for you to discover the mighty Tiki Totem and earn rewards for your word-creation prowess.
Two gameplay modes.
50 levels to explore.
Built-in level editor.
Here at White Fuzzy Games Big Kahuna Words is available for free download. You can play the downloaded copy of the game with full experiance for 60 minutes for free. After that you are to decide whether you liked Big Kahuna Words and if you would like to purchase it.
Please write your impressions and thoughts about Big Kahuna Words on the reviews page, and they will be published here on this page.