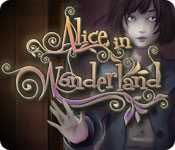 Alice in Wonderland Game Overview
Explore a new world as you meet your favorite characters, and hunt for clues to free Alice and decide the fate of Wonderland! An abandoned house holds the key to the secrets of Wonderland! Hidden Objects and tantalizing puzzles abound as you journey beyond imagination. Meet the Mad Hatter, Cheshire Cat and many others as you try to save the day in Alice in Wonderland!
Wonderous atmosphere
Hilarious characters
Save Alice from Wonderland!
Here at White Fuzzy Games Alice in Wonderland is available for free download. You can play the downloaded copy of the game with full experiance for 60 minutes for free. After that you are to decide whether you liked Alice in Wonderland and if you would like to purchase it.
Please write your impressions and thoughts about Alice in Wonderland on the reviews page, and they will be published here on this page.