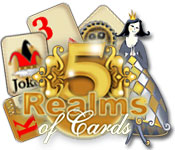 5 Realms of Cards Game Overview
5 Realms of Cards interweaves a revolutionary new solitaire gameplay with a fairy-tale story. Explore over 70 levels to help a young princess named Jokerine restore peace and beauty in card realms and learn a secret! Use cool bonuses to make your way through 5 unique card realms. Play 5 card-based mini-games and explore a beautifully rendered world in 5 Realms of Cards.
70 levels to play.
5 mini-games.
Cool bonuses to use.
Here at White Fuzzy Games 5 Realms of Cards is available for free download. You can play the downloaded copy of the game with full experiance for 60 minutes for free. After that you are to decide whether you liked 5 Realms of Cards and if you would like to purchase it.
Please write your impressions and thoughts about 5 Realms of Cards on the reviews page, and they will be published here on this page.