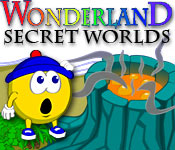 Wonderland Secret Worlds Game Overview
Try your hand at this unique mix of puzzle solving and arcade action. A magical storm has blown into Wonderland and swept away the little Stinkers. It is up to you to rescue them. Control four heroes through more than a hundred new levels in the diverse worlds of Wonderland. With exciting features and compelling gameplay, this world of adventure and mystery will keep you enthralled.
More than 100 levels.
Guide up to 4 characters.
Explore secret levels.
Here at White Fuzzy Games Wonderland Secret Worlds is available for free download. You can play the downloaded copy of the game with full experiance for 60 minutes for free. After that you are to decide whether you liked Wonderland Secret Worlds and if you would like to purchase it.
Please write your impressions and thoughts about Wonderland Secret Worlds on the reviews page, and they will be published here on this page.