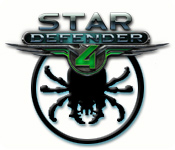 Star Defender 4 Game Overview
Want more missions vs. cruel enemies? Here you go! It`s Star Defender 4, with 8 gigantic new missions, better weapons, uglier aliens and more! Jump right in as the battle heats up with a new war raging in the Galaxy! Pilot your way through more than 100 breathtaking levels filled with black holes to explore, strange spacecraft to attack and annoying insects to destroy! Prevent the destruction of humanity in Star Defender 4!
Breathtaking levels.
Gigantic new missions.
Uglier aliens to destroy!
Here at White Fuzzy Games Star Defender 4 is available for free download. You can play the downloaded copy of the game with full experiance for 60 minutes for free. After that you are to decide whether you liked Star Defender 4 and if you would like to purchase it.
Please write your impressions and thoughts about Star Defender 4 on the reviews page, and they will be published here on this page.