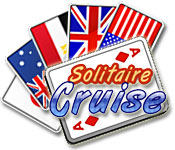 Solitaire Cruise Game Overview
Solitaire Cruise - Set sail for a world of fun! Embark on a round-the-world cruise of card matching action! A variety of unique levels will take you across the globe from USA to Japan. Each location you visit has its own rich visual theme and music. Find special bonus cards to help you along the way. Cross vast oceans, see the world and play Solitaire!
Themed locations to enjoy.
Find special bonus cards.
Here at White Fuzzy Games Solitaire Cruise is available for free download. You can play the downloaded copy of the game with full experiance for 60 minutes for free. After that you are to decide whether you liked Solitaire Cruise and if you would like to purchase it.
Please write your impressions and thoughts about Solitaire Cruise on the reviews page, and they will be published here on this page.