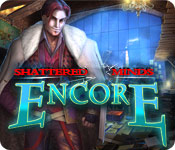 Shattered Minds: Encore Game Overview
Reveal the twisted plan of a deranged magician in Shattered Minds: Encore! You are a detective with a knack for dealing with strange cases and your Chief has a new case for you to investigate. After a series of vanishing famous monuments the world over, you are sent to Paris, France to investigate a possible link between the disappearances and a calling card left behind at the crime scenes. Play through challenging hidden object games and perplexing puzzles in an attempt to unravel the mystery in this thrilling hidden object adventure game!
Unique Hidden Object Games
20 Mysterious Puzzles
Enjoy the first in the Shattered Minds series: Shattered Minds: Masquerade
Here at White Fuzzy Games Shattered Minds: Encore is available for free download. You can play the downloaded copy of the game with full experiance for 60 minutes for free. After that you are to decide whether you liked Shattered Minds: Encore and if you would like to purchase it.
Please write your impressions and thoughts about Shattered Minds: Encore on the reviews page, and they will be published here on this page.