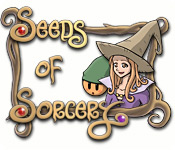 Seeds of Sorcery Game Overview
Accompanied by your teacher, Alina, you must travel the land of Sorceria! Overcome the myriad of tests set forth before you by the Imps. To do this, you must battle the Seeds of Sorcery before they overwhelm you! Explode the seeds by creating lines of the same color. Bonuses will help you create combos. Survive this Match 3 adventure and become the greatest Sorcerer of Sorceria!
Tricky puzzles.
Variety of bonuses.
Addictive Score-Attack mode!
Here at White Fuzzy Games Seeds of Sorcery is available for free download. You can play the downloaded copy of the game with full experiance for 60 minutes for free. After that you are to decide whether you liked Seeds of Sorcery and if you would like to purchase it.
Please write your impressions and thoughts about Seeds of Sorcery on the reviews page, and they will be published here on this page.