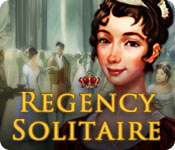 Regency Solitaire Game Overview
Experience the romance of Regency England, in this sumptuous solitaire game. Help Bella take charge of her destiny and create the ballroom of her dreams. Play your cards right as you tour historic locations, from stately homes and lavish gardens to the fashionable towns of London, Brighton and Bath. Decorate the family ballroom to unlock gameplay features and improve Bella's chances of finding true love! Avoid the clutches of the odious Mr. Bleakley, and reclaim a lost fortune. Cupid's arrow can't fail to find his target - in Regency Solitaire, love is always just around the corner.
180 unique levels spread over 20 chapters.
Purchase 31 exciting gameplay upgrades.
Normal and Hard modes.
Here at White Fuzzy Games Regency Solitaire is available for free download. You can play the downloaded copy of the game with full experiance for 60 minutes for free. After that you are to decide whether you liked Regency Solitaire and if you would like to purchase it.
Please write your impressions and thoughts about Regency Solitaire on the reviews page, and they will be published here on this page.