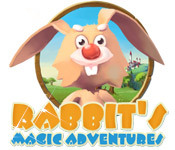 Rabbit's Magic Adventures Game Overview
Travel to a world of Magic and help a brave rabbit defeat an evil wizard in Rabbit's Magic Adventures, a fun Action & Arcade game. Save the hero's girlfriend and restore peace to the entire world. Bring down the evil wizard as you travel to different levels, remove spooky spells, collect powerful bonuses and solve secret puzzles and save the day!
Unique gameplay
Intense action
Defeat an evil wizard!
Here at White Fuzzy Games Rabbit's Magic Adventures is available for free download. You can play the downloaded copy of the game with full experiance for 60 minutes for free. After that you are to decide whether you liked Rabbit's Magic Adventures and if you would like to purchase it.
Please write your impressions and thoughts about Rabbit's Magic Adventures on the reviews page, and they will be published here on this page.