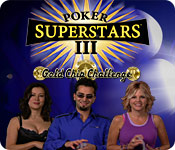 Poker Superstars III Game Overview
Are you ready for the next challenge?! Poker Superstars III Gold Chip Challenge raises the stakes with new superstars, new gold chips to win for great plays and a brand new challenge play mode. Poker superstars is the game that is packed with challenge. Be one of the Superstars by importing your photo in to the game! The Superstars are up for the new challenge, are you?
Interactive opponent pictures.
Import your photo!
Track all your winnings.
Here at White Fuzzy Games Poker Superstars III is available for free download. You can play the downloaded copy of the game with full experiance for 60 minutes for free. After that you are to decide whether you liked Poker Superstars III and if you would like to purchase it.
Please write your impressions and thoughts about Poker Superstars III on the reviews page, and they will be published here on this page.