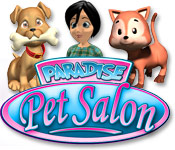 Paradise Pet Salon Game Overview
This is no day at the spa! It`s you versus Pet Corp in this fast paced fur flying good time. Your pet spa is competing against the evil Pet Corp. You`ll turn a small corner spa into a huge success with fast and hard work. But it`s not all about speed. You`ve also got to plan ahead. Serve hundreds of great pets and people too so you can earn more money to improve your spa by buying upgrades and special treats for your furry clients too. Fur has never been this fun or exciting.
2 great game modes.
8 customizable pet shops.
Exciting fun.
Here at White Fuzzy Games Paradise Pet Salon is available for free download. You can play the downloaded copy of the game with full experiance for 60 minutes for free. After that you are to decide whether you liked Paradise Pet Salon and if you would like to purchase it.
Please write your impressions and thoughts about Paradise Pet Salon on the reviews page, and they will be published here on this page.