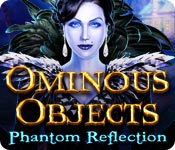 Ominous Objects: Phantom Reflection Game Overview
Daily Magic Productions, creators of the Dark Dimensions and Sable Maze series, invites you to enjoy another ominous tale! After surviving a supernatural experience as a child, you have dedicated your life to solving similar cases and tracking down ominous objects all over the world. This time, you and your trusty sidekick, Mr. Jenkins, have been called to the house of Lilith Armstrong to investigate strange activity. But when you arrive, Lilith is nowhere to be found, and the entire house seems to have come alive! The events all seem to be tied to a rare mirror Lilith recently purchased at an auction… Can you find out what happened to your client and uncover the secrets of this latest ominous object before it's too late? Find out in this exciting Hidden Object Puzzle Adventure game!
Get the Strategy Guide!
Check out our Blog Walkthrough
For a more in depth experience, check out the Collector's Edition
Here at White Fuzzy Games Ominous Objects: Phantom Reflection is available for free download. You can play the downloaded copy of the game with full experiance for 60 minutes for free. After that you are to decide whether you liked Ominous Objects: Phantom Reflection and if you would like to purchase it.
Please write your impressions and thoughts about Ominous Objects: Phantom Reflection on the reviews page, and they will be published here on this page.