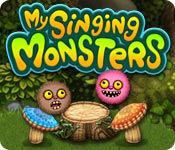 My Singing Monsters Game Overview
Collect, breed, and listen to your monsters sing! You have never seen a game like this before! Populate an island and watch what happens. Create unique havens by landscaping and arranging your creatures. Name them, feed them, make them happy; each monster is loaded with personality. You'll experience game play and music as never before! Play this game for free or purchase additional gameplay, virtual items, powerups, or other fun extras within the game to enhance your experience.
30+ monster species to collect and nurture
Amazing art, animation, and audio effects
Lush islands, each with its own theme
Here at White Fuzzy Games My Singing Monsters is available for free download. You can play the downloaded copy of the game with full experiance for 60 minutes for free. After that you are to decide whether you liked My Singing Monsters and if you would like to purchase it.
Please write your impressions and thoughts about My Singing Monsters on the reviews page, and they will be published here on this page.